Podcast: Play in new window | Download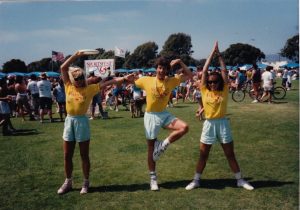 Can you believe it?! This is episode 100!! Woo Hoo! Jake & Randy talk about their personal observations. They both feel they've grown as a result of the numerous conversations they've had & the various points of view they've heard. They reminisce a bit over the last two and a half years and talk about some of their favorite episodes.
Rick continues his stories down memory lane and all his favorite Freestyle hot spots in California…Jake asks about some rumored psychological war fare during competition. Rick has some good Donny Rhodes & Joey Hudoklin stories, but when it comes down to saying who is "best" it isn't possible to choose. Rick says in 1984, he was probably the best, but it was short lived. Rick says the key to being great is commitment; watch videos, and play a lot, with lots of different people. It is a continual learning process, and everyone has a different way of approaching how they get to that place of flow.
The next episode will be a recap of the World Urban Games.
FPA World's is coming October 10-13 in Seattle, as well as a celebration of Hall of Fame inductees. It will all be live streamed!