Podcast: Play in new window | Download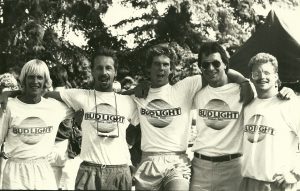 Crazy talks about his early freestyle partners in 1979 in Kansas City and how he ultimately ended up in Santa Barbara in the mid '80's. He talks about the origins of the Bud Light team and how the tours began. He shares some wild experiences, including meeting Miss Budweiser and being around the always impressive Velasquez brothers.
Congrats to Jake and all the winners of the 2010 Decade Awards!
Stay tuned for another Tiny Room Challenge. You can watch the livestream on Frisbeeguru.com on July 18th, 19th, 25th, & 26th hosted by Daniel O'Neill and James Wiseman.