Podcast: Play in new window | Download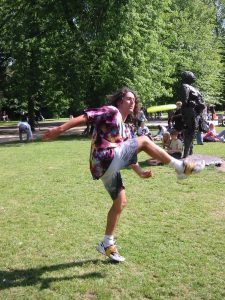 Tommy returns and continues to talk about the 80's. He had a long partnership with Skippy Jammer and he shares several memorable tournaments. Their adventures went beyond Freestyle. Tommy took what he learned from his mentors and has applied it in a masterful way.
Congrats to the winners of Anzio Jam 8,
Open Pairs
Kuba Radwański / Francesco Santolin
Women's Pairs
Char Powell / Bianca Kostelova
Mixed Pairs
Marco Prati / Fabiana Ciciriello

And again, a big shout out to the Capocotta women jammers! You're on fire!