Podcast: Play in new window | Download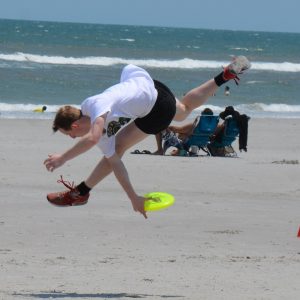 Daniel reflects on his first tournament in 2010 at Virginia States. He and James were newcomers and learned so much playing by playing coop with Zanardi – Emmanuele Faustini. It was also the first time Daniel had seen all of the Frisbee competitions coming together in one place.
Daniel shares his introduction to Paul Kenny, and what an influence and mentor he has been on both he and James. It was his tiny college dorm room that the three of them put together their first routine for the 2012 Worlds, sans frisbee.
One of Daniel's fondest memories is winning in Riccione, despite challenging wind conditions.
Daniel explains his thought process when choreographing his routines, and how his partner and the music play into that.
He also talks about the skills he has carried over from performing professionally in Cirque de Soleil and Pilobolus.
World Urban Games is coming September 14th – It will be streamed on the "Olympic Channel" so please watch for more details and a list of all the players! Go Freestylers!