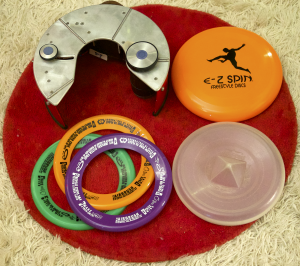 As we learned in the poll "How Many Hours of Practice Does it Take to Be Proficient at Freestyle Frisbee?, this sport can take a life-time to master. That's where training tools come into play. Discs like XDISC that make spinning the disc on one's finger easier, allowing for exploration of nail delay tricks. The Whiz Ring which makes air brushing easier, allowing for practice in light breeze and no broken blood vessles in the your hand. The Newbie Nail and other fake nail alternatives don't require glue. And, of course, the Z-Machine removes the need to throw to yourself and can spin the disc faster than anything else. Personally, I am a believer in these tools and have used each one for both my own training and to teach others. In this poll, let's find out:
Which Freestyle Frisbee Training Tools Have You Used?
[poll id="46″]
By the way, if you're interested in buying any of these tools, here are some affiliate links. If you use them, FrisbeeGuru gets a small percentage of the sale.