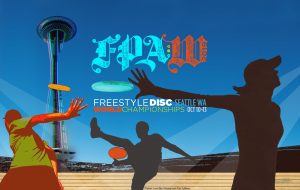 The Freestyle Player's Association World Championships for 2019 (FPAW 2019) will be live streamed. The event will take place in Seattle, Wa on Oct 10 – 13 in the Mitchell Activity Center, with the finals for all divisions being on the 13th. Also taking place at this event and being streamed will be the FPA all hands meeting and the Freestyle Flying disc Hall of Fame inductions.
So far this event has 44 teams registered, including many of the top players. One team of note is the co-op team of James Wiseman, Daniel O'Neill, and Paul Kenny. This team has won the Co-Op division twice and is ready to go for a third. In the past they have brought multi-disc routines that are packed full of edgy diff and creativity where no moment is left without content. Of course the team of Ryan Young, Dave Schiller, and Pavel Baranak won last year and is defending this year. This team can execute technical difficulty and spinning catches like no bodies business. Plus they have some unique tricks that no other team will bring the table.
In Women's Pairs, Cindy Saint Mary and Lisa Hunrichs are back and ready to claim another title. These competitors have played and won many times in the past and have some of the deepest games of any of the other teams. However, many other teams are hungry will not let Cindy and Lisa off without a battle. The team of Emma Kahle and Mary Lowry have played together before and are both title holders in this division. Then there's Ilka Simon and Juliana Korver; both strong players who competed at the World Urban Games.
In the Open pairs division look out for the team of Mehrdad Hosseinian, aka "Graf" and James Wiseman. These guys are ranked 3rd and 2nd respectively and are possibly the best players the game has ever seen. James can do any move with any spin and Graf invents a new move every time he touches the disc. The two together may be an unstoppable force. Still, Edoardo Turri and Mattia Colombari may be ready to stop them. These guys are up and comers from Rovereto, Italy and have been turning heads at the last few evens they attended. This team is known for their connectivity and for surprising the audience with moves that might look easy, but certainly are not.
In the Mixed Pairs division Maxine Mittempergher and Edoardo Turri are the team to beat. They won mixed at Frisbeer and have been turning heads ever since. They have a style that looks graceful and controlled yet their diff is off the charts. However, Lisa Hunrichs and Freddy Finner may surprise us as they are both top players. Lisa, of course has multiple mixed pairs titles but none with Freddy. Freddy is coming off a win at Beach stylers so it's all about the chemistry that these two can bring to the table.
Don't miss the action; tune in here.