Podcast: Play in new window | Download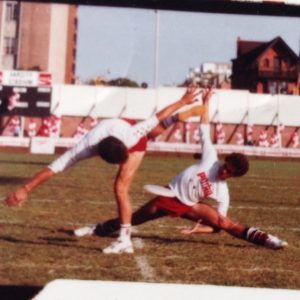 Patrick gives an update on some of the Toronto players and the Frisbee scene from the 80's, which was hot at the time. He fills in some gaps to bring us up to speed. Toronto showed up well in the World Championships in 1995. There were very few players though, and Patrick was worried about totally losing the sport. However, about 6 years ago, new players showed up, and people are playing every day now. Patrick talks about the Frisbeetarians at Trinity Bellwoods Park. How about a hat tournament in Toronto? Would you come?
Bill Wright recently visited Jake & Lori in Hawaii, bearing some special gifts. Randy gives some context. You can view and purchase these discs on wrightlife.com, and the proceeds help raise money for the FPA.
We have some exciting guests coming soon: "Crazy" John Brooks, Larry Imperiale, Skippy Jammer, and one of Randy's all time heroes, Krae Van Sickle.